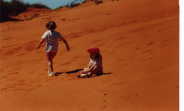 The Top of Peron Peninsula -Colours are sensational!
SHARK BAY WESTERN AUSTRALIA
Now famous for the Dolphins of Monkey Mia Shark Bay has a long history with Europeanexplorers from England, France, Holland and the Malay people from the Mollucca region which isnow part of Indonesia.
William Dampier first explored the Western Australian coast in the late1600's and named the large bay Sharks Bay.
Nicolas Baudin on his visit in 1791 met a fleet of some nine ships from Mollucca under the
ownership of Raja Sola (or Sala) at Shark Bay and he was trading with the local aborigines.
The major town on the Peron Penisula, again named after Francois Peron another French explorer
with Baudin,is DENHAM where once the streets were paved with pearl shell and this was
confimed during the construction of the Heritage Resort Hotel when a thick layer of shell was found
during excavation for the foundations.
The town is named after Captain Henry Mangles Denham of the Herald and another bay called
Herald Bight is named after his ship. There is also a Mangles Bay near Perth. Denham was at
Shark Bay in 1858. The original name for the town was Fresh Water Camp.
Captain Denham and the Herald were mentioned in the book "20,000 Leagues Under the Sea"
(Jules Verne) where Captain Nemo supposedly ran across him when Denham was taking a world
record (at the time) sounding in the South Atlantic.

DENHAM
The most Western town in Australia has many interesting aspects for both the day tourist or those staying longer . On Knight Terrace the main street fronting the beautiful beach there are the usual shops including cafe's,
coffee shops, restaurants, bakeries, newsagents, Service Station, Real Estate Agents and hotels.
The Shark Bay Museum is definitely a must with gemstones, Aboriginal artifacts and items of
historical interest and replicas of the Dirk Hartog Plate.
Natural attractions close to town include Little Lagoon and Town Bluff.

TOWN BLUFF
>
Just a short walk south of town it is an ideal spot for photographing the town or the fabulous
sunsets.
On the way you may be able to distinguish two rows of rocks which are believed to be an Aboriginal fish trap.

LITTLE LAGOON

Situated to the north of town and accessible from the Monkey Mia Rd Little Lagoon, which is
virtually circular,
is connected to the ocean by a narrow meandering stream. Relatively shallow it
offers a variety of fishing and again is an ideal spot to film especially the sunsets.

BIG LAGOON
20 Kilometres by road or 15 by sea this marvellous stretch of water abounds with
a variety of fish.
A 4WD is necessary for road access.
Entry is through Peron Homestead and a fee is payable.

PERON PENINSULA
A day trip to the top of the Peninsula is highly recommended as this unique
area offers many unusual sights.
You could expect to see Sea Eagles, and many other birds,
possibly Kangaroos and Emus.
From the many headlands and beaches you could see Dolphins,
Manta Rays, Sharks, Dugongs, Turtles and other abundant marine life.
You can drive yourself but a guided 4WD tour is recommended.

SHELL BEACH
Some 40K south of Denham this incredible 100+kilometre beach is composed
of countless
millions of tiny shells(Cardium Hamelini)
In some places these shells are in excess of 10 metres deep.
Only a few metres from the main Denham Road it accessible to all vehicles.
It is thought that this is one of two of this type of beach in the world.
The other being in the Sea of Cortez at Baja, California.

STROMATOLITES
Scientists have come from all over the world to see these oldest living fossils.
These are well worth a visit and are at Hamelin at the southern end of the Bay.
There is also the
historic Hamelin Telegraph Station which is now a museum.
NANGA BAY HOLIDAY VILLAGE
This is a proper station with excellent accommodation
including first class motel units, caravan park and other styles of accommodation,
restaurant, store,
barbecue area etc.
Brilliant fishing from the beach or by boat and more stromatolites on the
property.
A not so well known attraction is the Blue Holes which are only accessible from the
station with their tour or permission.

SHARK BAY abounds with wildlife with at least 53 species of water birds including 28 waders.
Many birds migrate from as far away as Siberia.

Fishing tours are available in Denham from day trips to longer.

Some references on Shark Bay.

The Remarkable Dolphins of Monkey Mia by Hugh Edwards

Shark Bay Days by G.W.Fry

Shark Bay Legends by Russell Cooper

If you would like photgraphs for information or for a project please e-mail.